How much total 'credit' should a couple have? Q: I'm wondering how much total 'credit' I should have? My husband and I have a few credit cards and two Line of Credit (LOCs) between us totalling about $50,000. We don't have a habit of maxing it out and we pay it off fairly regularly.
China, Saudi Arabia sign billion in co-operation deals BEIJING, China - China and Saudi Arabia have signed a memorandum of understanding on investment co-operation valued at $65 billion and involving 35 co-operative projects. The agreement followed talks Thursday between Saudi King Salman and President Xi
Hawaii: Including grandmas in travel ban 'preposterous' HONOLULU — Hawaii state attorneys challenging the Trump administration's travel ban say the U.S. government is holding on to the "preposterous contention" that grandparents aren't considered close family relationships. Under the partially reinstated ban
Activist investor urges HBC to sell off property TORONTO - Hudson's Bay Co. (TSX:HBC) is facing heightened calls from a U.S. investor to sell off or otherwise unlock the value from its real estate holdings. In a letter to the retailer's board, Connecticut-based Land & Buildings Investment Management said
Salihamidzic appointed Bayern sporting director MUNICH — Former Bayern Munich midfielder Hasan Salihamidzic is the German champion's new sporting director. The 40-year-old Bosnian was appointed on a three-year deal, Bayern announced Monday. "I'll be there for the players 24 hours a day, seven days a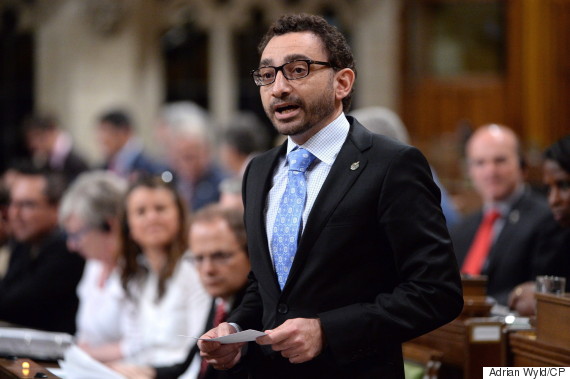 Omar Alghabra Faces Racist Messages After Criticizing Tories On Anti-Islamophobia Motion OTTAWA — A Liberal MP received violent and racist messages on social media this week after he highlighted the refusal of some Conservative MPs to denounce all forms of Islamophobia in the Commons. Liberal MP Omar Alghabra speaks in the House of Commons on June 3, 2016. (Photo: Adrian...
Could 'Nexit' follow Brexit after Dutch elections? ROTTERDAM, Netherlands -- For a small nation that has grown hugely wealthy thanks to centuries of doing business far and wide, the political mood in the Netherlands has turned surprisingly inward. As a March 15 parliamentary election looms in the
Floods in southern Japan force hundreds to flee; 2 dead TOKYO — Troops were working Thursday to rescue families left stranded by flooding in southern Japan. Two people were reported dead and 11 others were unaccounted for in flooding that wrecked homes, roads and rice terraces. Heavy rain warnings were in
Trudeau speaks with British Prime Minister Theresa May Prime Minister Justin Trudeau had a conversation with his British counterpart on Saturday. Trudeau's office says Theresa May offered her condolences for last weekend's shooting at a Quebec City mosque that left six people dead. The two leaders also
Novel predicts sex with robots, insects as food, and chaos John Redstone did not intend to predict the future in his novel "Christ came from Croydon" but, as in the book, the gap between rich and poor has grown, and the anger and resentment towards the rich has had shocking effect. The anger has spawned hatred