Homa Hoodfar speaks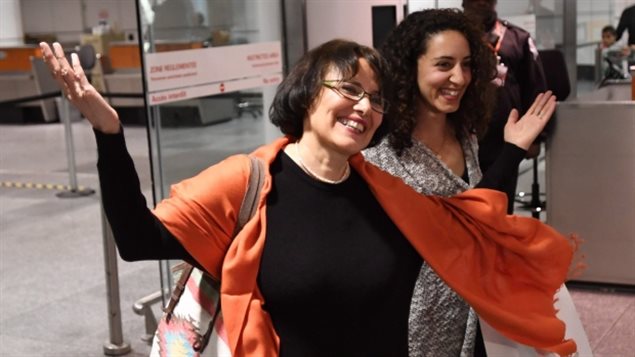 Homa Hoodfar has been home in Montreal for a week now. The 65-year old  Iranian-Canadian academic was held in Iran's notorious Evin Prison since June. Yesterday she spoke with journalists from the CBC and Radio-Canada.
She said she had always been media-shy, but with her detention having made global headlines, she was able to overcome that to express her thanks to all the people who fought long and hard along with her family to secure her release.
The ordeal began with a trip to Iran in February to see old friends and do some reasearch. An anthropologist, Hoodfar has studied the role of women in Muslim societies around the world. She says it was bad timing as her visit coincided with the country's parliamentary elections, in which the Conservative forces did not do well, particularly in Tehran. Looking for a scapegoat, she was taken in by authorities for questioning.
Just as she was about to return to Canada in March she was arrested and charged with collaborating with a hostile government against national security and with propaganda against the state. The charges were published in the Iranian press, and the prosecutor was quoted as saying Hoodfar had been "dabbling in feminism".
Homa Hoodfar clarified that feminism as such, is not outlawed in Iran, and she co-operated with the authorities, sure that when they looked into her work and talked things over with her they would see her work was no threat.
"If you are a woman, a middle-eastern woman, you just have to be tough to survive, and I think I learned that lesson a long time ago"
Released on bail, she was eventually rearrested in June and detained in the prison that Iranian-Canadian Zahra Kazemi, a photographer is said to have died in. Hoodfar said the Iranian authorities were very aware of the Kazemi case hanging over them.
In a Radio-Canada interview, when asked how she felt about the experience at the time, she said she was overwhelmed with feelings of disappointment, being misunderstood, and eventually heartbreak:
Homa Hoodfar is still recuperating from the damage to her health. Suffering from myasthenia gravis, a condition that causes muscle weakness, she was denied her regular medication while in prison, Her voice was affected and she also had a minor stroke last year that has affected her vision. 
But it was her discipline that kept the retired Concordia professor sane. With just a toothbrush initially, she began to write, recording her, and her prison-mates experiences, as the anthropologist she has always been.
Homa Hoodfar says she has lived through a lot in life. She witnessed the Iranian revolution, she has had her ups and downs and changed countries as she describes the emigration process. She is in a lot of physical pain, her vocal chords were damaged and breathing is not easy but she is taking pain killers for relief.
"If you are a woman, a middle-eastern woman, you just have to be tough to survive, and I think I learned that lesson a long time ago" she said with a laugh. She trusts the writing process she will undertake now will be part of the psychological healing.
Her release, when it came, happened fast. Canada's Minister of Foreign Affairs, Stephane Dion, had spoken with his Iranian counterpart at the United Nation's meeting in New York City in September. Hoodfar said she was taken to a "beauty salon" where her hair, which had turned grey, and she had wanted to keep it, was died black. She was given a sort of make-over with an outfit of brightly coloured clothes, in stark contrast to the prison garb she'd been restricted to, for the trip home.
She has continually thanked Canadian authorities and Oman, where she arrived on the first leg of her journey back. |Canada has not had formal diplomatic relations with Iran since the previous Conservative government expelled Iranian diplomats and closed the embassy in Tehran, in September 2012. There is a move by some Iranian-Canadians now to restore ties.
Prime Minister Justin Trudeau extended the gratitude to Italy, Switzerland and Oman, for the roles they played in Homa Hoodfar's safe return.
Asked by the CBC's  Anna Maria Tremonti if she will ever return to Iran, Homa Hoodfar responded, "The Iranian government has triple-divorced me". She will not go back.
Continue Reading ➤